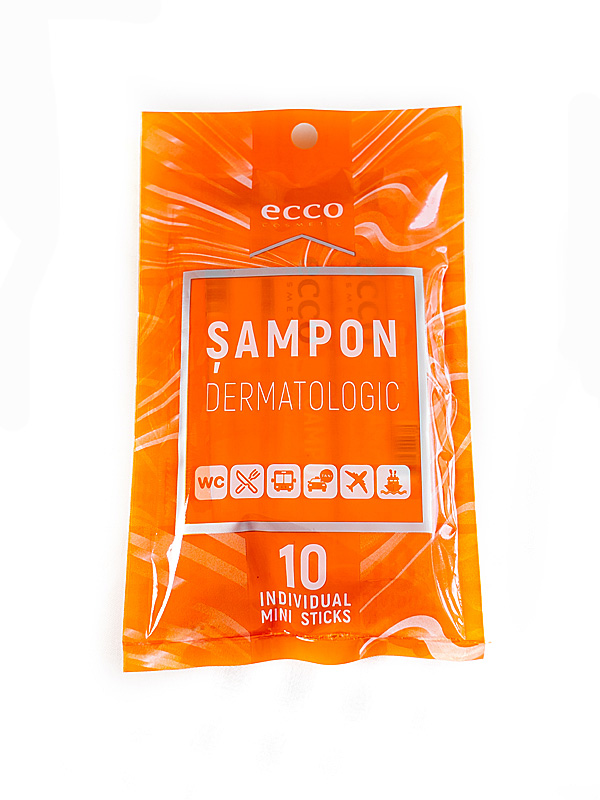 Shampoo
ECCO Cosmetic shampoo, in mini sticks, 5ml
ECCO COSMETIC© shampoo, with a volume of 5 ml is one of the types of portioned packaging, or monodose packaging, which has become very widespread today.
Due to their tightness, portioned mini-sticks allow preserving the freshness of the product and, at the same time, not using preservatives in the product. The bags are very convenient to use — they are easy to take with you on a trip, to work, they do not take up much space and do not require additional packaging. Hygienic packaging, minimal contact of the product with other things, while the product can be used 'on the go'.
ECCO COSMETIC© shampoo, 5 ml are cosmetics in a compact, new, convenient package. These mini-sticks of the 'NATURAL PRODUCT' company have no analogues in the world and today they are making a revolutionary new approach for high-quality customer service.
Why does this format have an advantage?
a mini-stick can be given to clients or put in a show box, from which it will take small sticks themselves;
can be used where needed: at home, in a cafe, on an airplane or in a beauty salon.
dosed packaging allows applying as much of the product as is necessary for a person for normal washing;
the client only touches his/her dosage package of the cosmetic product and does not create a queue.
You can brand the packaging, put your logo on it or even place an advertisement with your promotion or new product!
Scope of application:
In medical facilities
In beauty salons;
In places of public catering;
Outdoors or on the road;
In very crowded places;
If it is not possible to take large bottles with you.
Based on this innovation, we have developed a special offer for companies engaged in the transportation of passengers (by air, railway, sea, etc.) and the HoReCa sector (hotels, restaurants, cafes, bars, etc.).
Mode of use:
Break the mini-stick;
Squeeze on the hair;
Rub for 30 seconds;
Wash off with water.
Taking into account the general trends of increase in demand for mini-packaging and dosage of products, it can be assumed that in the coming years mini-sticks (and other modifications of this type of packaging) will capture most of the cosmetic market, rising from the stage called free sample to the stage of a full-fledged finished product.
Why it is worth choosing the shampoo from the "Natural Product" company?
The ECCO® Hair Shampoo is designed for all hair types and is suitable for everyday use. It returns the natural shine of curls, and adds volume. The shampoo repairs damaged hair by strengthening strands from roots to ends. The unique formula of the shampoo makes hair soft, elastic, smooth and shining.
The ECCO® Hair Shampoo is recommended for people with skin and allergic diseases and is effective for hair restoration after viral and bacterial infections.
The hair shampoo from the "Natural Product" company is available in two versions:
Transparent hair shampoos
A therapeutic and nourishing shampoo suitable for all hair types, as well as for coloured, damaged and dry hair. It effectively fights against hair loss, relieves irritation and prevents dandruff. It restores natural strength and shine of damaged hair. After applying the shampoo, the hair is easy to comb and style.
The shampoos also contain Polyquaternium-7 conditioning supplement, which spreads well on the hair and makes it easier to comb and also makes it soft.
Creamy hair shampoos
In the formulation of the shampoo, the washing base differs from the previous one by an increased content of ethoxylated sodium lauryl sulfate. The creamy appearance of the shampoo is due to the presence of the Enapearl Classic opacifier in the formulation, which is a mixture of glycol distearate, diethanolamide of fatty acids, coconut oil and ethoxylated lauryl alcohol.
The moisturizing universal shampoo gives a brilliant shine, promotes complex hair restoration and effectively cleanses hair along its entire length without weighing it down. It is suitable for all hair types. The shampoo is intended for weakened, brittle and damaged hair, is rich in vitamins and minerals necessary for delicate and gentle protection of hair fibres and scalp.
PRODUCTS OF THE «Natural Product» COMPANY
Product categories
CONTACT US
For purchase and cooperation, contact the manager
WORKING HOURS
Monday-Friday: 8:30–17:30