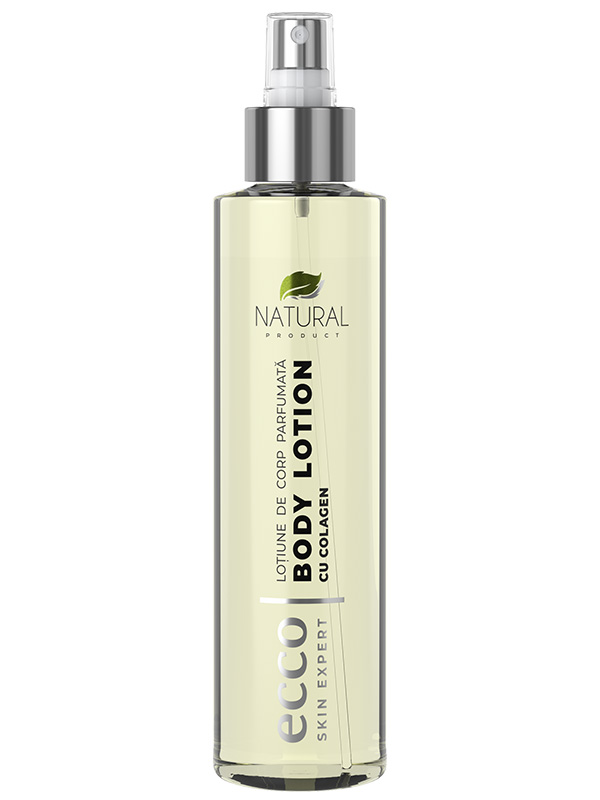 Skin Expert
Perfumed body lotion SKIN EXPERT ECCO®
with collagen with a fresh aroma that combines notes of wood and sea, embodying freedom and the spirit of nature
5-in-1
Tones — Refreshes — Disinfects — Smoothes wrinkles — Increases elasticity
The ECCO collagen body lotion is designed to hydrate, restore tired body skin and saturate it with beneficial vitamins and vitality. The lotion protects the skin from the harmful effects of the environment, promotes the production of its own collagen and gives the skin elasticity and firmness. The collagen in the composition of the lotion replenishes the deficiency of its own collagen, thereby preventing the deformation of the skin, and with regular use, the skin becomes smoother, firmer and more elastic again. The collagen also helps to retain moisture in the skin, which also leads to its smoothing and prevents skin creases. The perfume composition gives freshness and airiness, turning into soft amber-gourmand warmth.
It is indicated for people of all age groups and for point relief of inflammation
Recommended for combined and problem skin, mainly oily skin prone to acne and inflammation
Why choose SKIN EXPERT from «Natural Product»?
The SKIN EXPERT product line includes: cleansing lotions and tonics, perfumed body lotions for women and perfumed aftershave lotions for men. Its 100% organic composition provides: cleansing, toning and moisturizing. Antioxidants in the composition of the products will help fight the negative effects of the environment and delay skin aging. All tonics and lotions complete the cleansing process, but almost each of them has individual features and tasks: soothe, refresh, soften, etc. Each product of the SKIN EXPERT line is suitable for daily use.
PRODUCTS OF THE «Natural Product» COMPANY
Product categories
CONTACT US
For purchase and cooperation, contact the manager
WORKING HOURS
Monday-Friday: 8:30–17:30