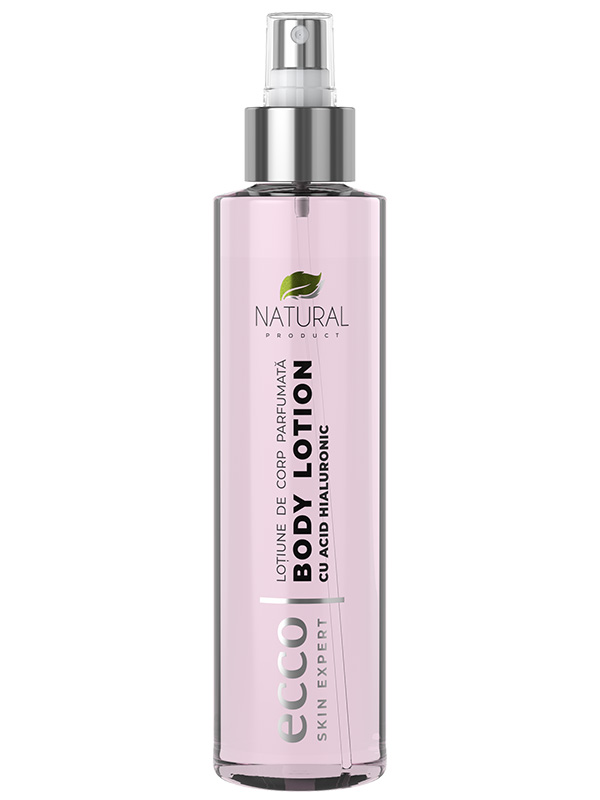 Skin Expert
Perfumed body lotion SKIN EXPERT ECCO®
with hyaluronic acid with a bright rich floral aroma of white flowers and sweet citrus notes
5-in-1
Tones — Refreshes — Disinfects — Nourishes — Moisturizes
The ECCO body lotion with hyaluronic acid protects against dehydration, dryness and flaking, fights against premature aging. Safe and effective for allergy-prone, especially sensitive and very dry skin. It restores softness, elasticity and smoothness of the skin, stimulates the production of collagen and elastin. The unique formula restores the lipid layer and strengthens the skin structure. The perfume composition combines sweet-spicy motifs enveloping in a luxurious captivating train.
It is indicated for people of all age groups and for point relief of inflammation
Recommended for combined and problem skin, mainly oily skin prone to acne and inflammation
Why choose SKIN EXPERT from «Natural Product»?
The SKIN EXPERT product line includes: cleansing lotions and tonics, perfumed body lotions for women and perfumed aftershave lotions for men. Its 100% organic composition provides: cleansing, toning and moisturizing. Antioxidants in the composition of the products will help fight the negative effects of the environment and delay skin aging. All tonics and lotions complete the cleansing process, but almost each of them has individual features and tasks: soothe, refresh, soften, etc. Each product of the SKIN EXPERT line is suitable for daily use.
PRODUCTS OF THE «Natural Product» COMPANY
Product categories
CONTACT US
For purchase and cooperation, contact the manager
WORKING HOURS
Monday-Friday: 8:30–17:30